September 1, 2017 / Jeroen de Kloet
Wechat and vernacular creativities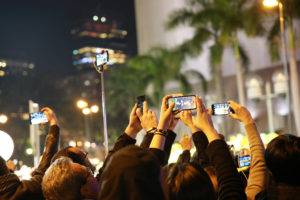 | | |
| --- | --- |
| Principal investigator: | Jeroen de Kloet, Thomas Poell (University of Amsterdam, the Netherlands), Guohua Zeng (Chinese Academy of Social Sciences, China) |
Abstract:
Chinese citizens use WeChat (known as WeiXin in China) for everything: from booking a show to making new friends, for paying in the supermarket to ordering a taxi, from sharing everyday life through the moments function to shaking the phone for getting to know new people, and from exchanging pornography to gossiping. The popular Chinese mobile text and voice messaging service, with its 650 million active users, has in a short time become an integral part of everyday life. Compared to its counterpart whatsapp, its functionality is much more elaborate and thus penetrates deeply into everyday life.
Inevitably, the exchanges through the service also touch on contentious issues, such as freedom of speech, political and corporate corruption, and the rising levels of air pollution. This project explores how WeChat enables the proliferation of vernacular creativities, how it is entangled in strategies of governmentality and surveillance, and how it not only gives rise to contentious communication, but also, how it, in turn, shapes this communication. As these platforms enable immediate widespread content sharing, such daily chatter pervades and affects public communication at large. WeChat is an interesting example of this trend because it is a very popular mobile app, which is deeply integrated in daily practices.
Contentious personal and public communication becomes inextricably entangled. As other authors have already observed, this discourse is injected with humor, emotions, and gossip, and sex. And, it is thoroughly intermingled with popular culture and intimate personal concerns. The consequences of this intermingling of personal and public communication for the dynamic of popular contestation in the Chinese context are highly ambiguous. By following different groups on Wechat, ranging from Ping Pong players to a jogging group, and analysing their discussions, shared moments, the images that circulate, and the rumours, in conjunction with interviews with users, this project aims to unpack the proliferation of the vernacular creativities that are enabled by wechat, and trace their social and political implications.