April 5, 2018 / Zoenie Liwen Deng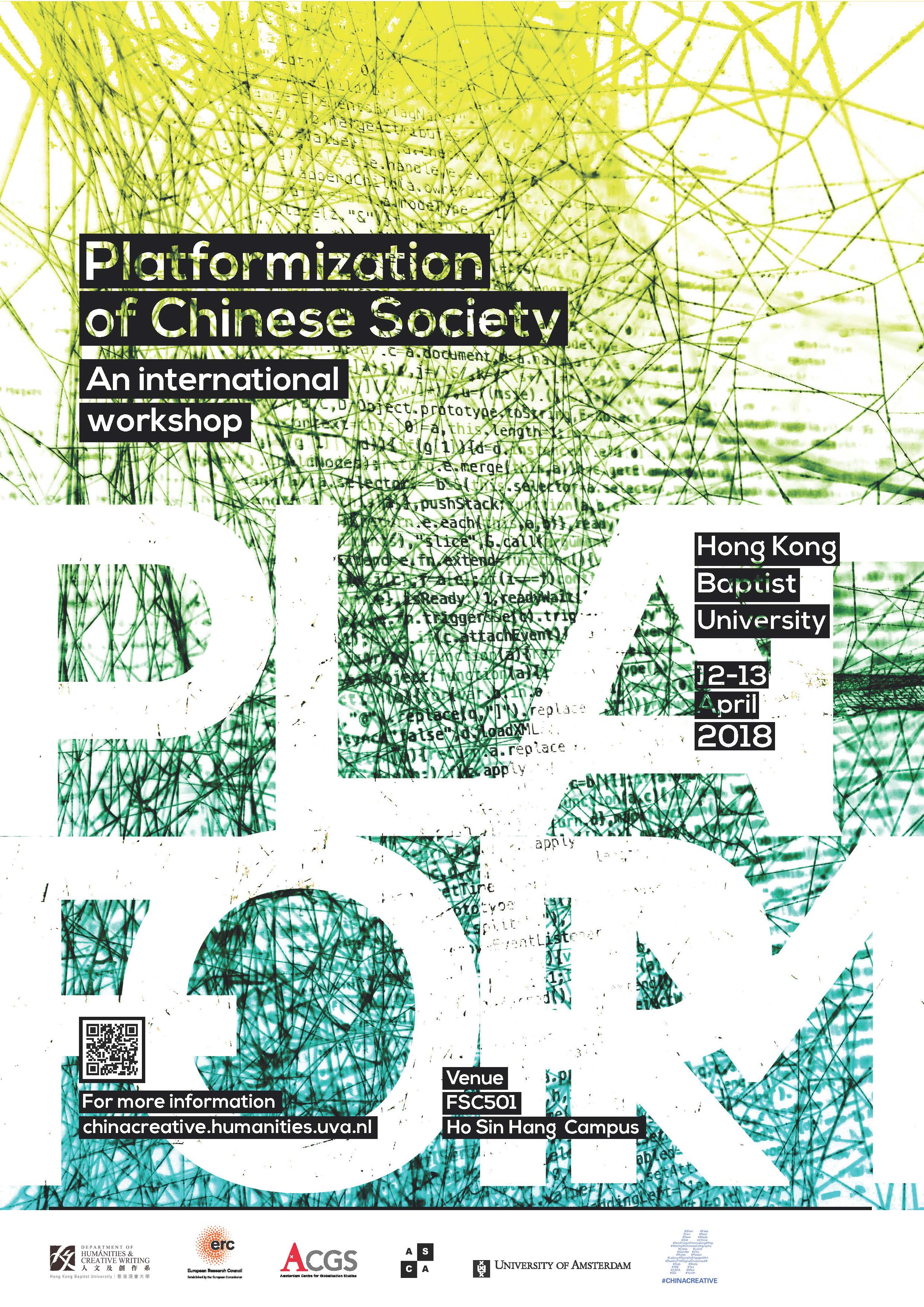 Platformization of Chinese Society: An international workshop
Time: 12-13 April 2018
Venue: FSC501 Ho Sin Hang Campus, Hong Kong Baptist University
No registration is required. Everyone is welcome!
This workshop aims to empirically scrutinize dif­ferent platforms that are currently very popular in China. Inspired by a series of articles and a forthcoming book by van Dijck, Poell and De Waal, the workshop sets out to explore the particular mechanisms that online platforms introduce in Chinese society. To grasp the complexity and the logic of Chinese platformization, it is pivotal to analyze the specific character of the main Chinese platforms, as well as the specific political and cultural configuration in which they operate. The Chinese process of platformization appears to differ on at least three cru­cial dimensions with developments in the US and Europe. First, there are vital differences in the political economy of platforms: the ownership struc­ture and business models of Chinese platforms are different form those in the US. This also has implications for the ownership of data, raising issues of surveillance, control and marketing of data (Deibert 2013; Dyer-Witheford 2014; Fuchs 2017). Second, vital differences need to be taken into account in terms of the architectures and affordances of platforms: user and programming in­terfaces (and its semiotics), algorithms (what is made visible and invisible), and infrastructures (how are third parties plugged into the platform eco­system) (Helmond 2015; Hookway 2014; Plantin et al. 2016; McVeigh-Schultz and Baym 2015). Finally, Chinese online platforms appear to be characterized by particular types of user practices and cultures, which differ from those in other parts of the worlds (Poell, de Kloet & Zeng 2014; Qiu 2016). Given that the societal impact of new technolo­gies is for an important part shaped by how these technologies are integrated in social practice, these differences greatly matter. Of course, the question is how "particular" or "universal" Chi­nese platform user practices are. The exploration of these three dimensions will help to gain insight in the specific character of the platformization of Chinese society.
The papers in this workshop explore these issues by focusing on specific types of platforms, including plat­forms for: social networking (Weixin, Weibo, Lesdo & Rela), food delivery (Ele.me & Meituan Dianping), dating (Mo­mom, Tantan & Blued), transport (Didi Chuxing), video streaming (iQiyi), and e-commerce (Alibaba). The workshop is focused on bringing the case studies in conversation with each other and interrogating the how particular platforms contribute to the transfor­mation of societal relations along the three dimensions sketched above.
Please download the programme booklet for the workshop by clicking the link below.
#platformization #China #data #politcaleconomy
ORGANIZERS
Yiu Fai Chow, Jeroen de Kloet, Thomas Poell and Guohua Zeng
Department of Humanities and Creative Writing, Hong Kong Baptist University
Amsterdam Centre for Globalisation Studies (ACGS), University of Amsterdam, the Netherlands
The Amsterdam School for Cultural Analysis (ASCA)
As part of the ERC project ChinaCreative
SPONSORED BY
European Research Council (ERC)
Hong Kong Baptist University
Amsterdam Centre for Globalisation Studies (ACGS)
Amsterdam School for Cultural Analysis (ASCA)