February 5, 2018 / Siyu Chen
Field Notes from Shenzhen: Young Aspirants at Wall Studios in Dafen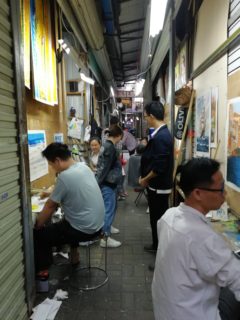 In small alleys in Dafen oil painting village, galleries stand next to each other with a void between every three or four of them. With wooden boards and roller shutters attached to the walls, ceilings and lightings installed overhead, and in some cases PVC curtains put up at the entrance, these gaps become tunnel-like studios where many painters execute and display their works. Wall painters first emerged around 2008 when the global financial crisis stroke Dafen, the world's largest handmade oil painting production center which used to rely heavily on the foreign market. Due to a dramatically decreasing volume of overseas orders, many painters could not afford the rent of the studio/galleries, and the voids between galleries became viable solutions to shelter their painting careers from the global economic storm. At present, these wall studios have persisted and grown to over five hundred (Peng and Zhang 2017)..
In late October 2017, I became an apprentice at a wall studio at an alley called A Century-old Street (Bainianlaojie). Located in the eastern side of Dafen village, it got its name from a witty plaque that hangs above its entrance-with "A Century-old Street" in large and bold font and other characters in almost neglectable size, the complete phrase reads " It has ninety-nine years to go to become a century-old street". With two canvas shops, a stationery shop, a printing shop and a frame shop scattering around, the alley provides painters almost everything they need for their work. Between the stationery shop and a small gallery stands the wall studio that I joined. Covering an area of no more than ten square meters, it hosted four painting masters and five apprentices.
Different from the previous decade when the master-apprentice relationship is, according to Winnie Wong's (2014) observation, based on a subcontracting production system, apprenticeship in Dafen now operates on a basis which basically trades free tuition for flexibility. Junior apprentices normally pay 800-1500 rmb per month for the tuition fee, depending on their level of painting skills, and work for free to fill orders without any stipulation on working hours and workload. Yan, who arrived in Dafen just two weeks earlier than me, was one of my fellow apprentices, and a "lazy" one, as I had been told. She usually showed up with her puppy in her arm at around 2 pm, and before she started to work, she would take some time watering and trimming the green plants in the baskets that she hung to the wall and chitchat with others. After working for a couple of hours, she'd leave before dinner while most of others stayed. Yan's laid-back lifestyle was, according to her, a backlash against her previous routine job as a business assistant at a telecom company in Shenzhen where all she did was to "clock in, clock out and document the contracts in the computer." By chance, she learned about Dafen village and paid a visit which changed her career trajectory.
"I had never learned painting before, although I like arts very much.. The 'normal' art studios always make me feel a bit distant, and the classes there are expensive. The wall studios in Dafen, on the contrary, are definitely much more approachable not only in terms of expenses but also social atmosphere. The moment I stepped in Dafen village, I smelled the air of 'freedom'. You see people painting, taking a nap, playing loud music and poker game, walking around and exchanging banters. I can almost visualize myself working in such lively environment ".
Yan was not the only informant who came to Dafen for a free life, and the search for a life guided by free will is the most salient aspiration expressed by younger painters, mostly in their 20s or early 30s. All of them came from small cities or the rural areas. Some used to have factory or corporate jobs, while others were recent graduates of technical secondary schools or junior colleges. As Pariece Nelligan (2014) points out, the development of creative economy provides scope for people's apparent freedom from institutionalized regulation and give them greater encouragement to live a flexible and autonomous life. Coinciding with the rising individuals in China who- as Pang (2012) argues-regard the pursuit of a self as a way of becoming "modern", the growth of the new economy has given birth to a cohort who are increasingly pressed to break free of class backgrounds and conventional pathways to structure their working lives. With fewer constraints in terms of artistic qualifications, noise control, entrance fees, and opening times, wall studios offers these working-class aspirants an alternative lifestyle where they can distinguish themselves from normal working conditions and the associated disciplinary measures and controls.
Bibliography
Nelligan, Pariece. "Walking the vocational tightrope: Narratives of aspiration, creativity and precarious labour." (2014).
Pang, Laikwan. Creativity and its discontents: China's creative industries and intellectual property rights offenses. Duke University Press, 2012.
Peng, Wei and Zhang Pan. Van Gogh by Walls: Rectification and Transformation of Dafen Village, Shenzhen Drive Away Five Hundred Oil Painters by Walls (墙上的梵高:深圳大芬村整治转型,五百墙壁油画工"断舍离) Thepaper.cn. Sep, 20th, 2017.
Wong, Winnie. Van Gogh on demand: China and the readymade. University of Chicago Press, 2014