October 23, 2017 / Arjen Nauta
Coming Back Like A Boomerang: 'Take Me Out' and 'If You Are The One' Between China and Australia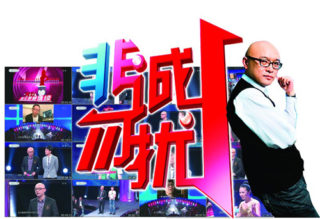 The Hunter Valley is one of the prime wine regions close to Sydney. After attending the Crossroads in Cultural Studies conference at the University of Sydney in December 2016, my wife and I nestled ourselves in a nice guesthouse between the vineyards of the Hunter Valley. When I turned on the television and zappped through the channels, I suddenly stumbled upon the famous Chinese dating show If you are the one (Feicheng wurao [非诚勿扰]). Not on a channel for overseas Chinese, but on SBS's mainstream Viceland channel. I was immediately intrigued: how did this show end up on Australian television? After all, Chinese audiovisual products are remarkably unsuccessful in finding an audience beyond Chinese borders (and overseas Chinese communities). Time to explore…
The dating show If you are the one (Feicheng wurao [非诚勿扰]), first broadcasted by Jiangsu Satellite Television (JSTV) in 2010, has long been one of the most successful. Famous for controversies over excessive materialism, such as female candidate Ma Nuo's utterance that she'd rather cry in a BMW than laugh riding on the back of a bicycle, the show was subjected to considerable censorship as the regulation agency SAPPRFT considered the show to be spreading the wrong values. The show has received widespread attention in international news media, and in academic publications (Li 2014, Luo & Sun 2014, Sun 2014, Morrow 2014). Little has been written about the show's relation to the international TV format it is based upon: Take Me Out, even though its journey is highly interesting!
The Take Me Out format epitomizes the transnational production and circulation of television formats: other popular global formats include Survivor, Big Brother, Idols, and the Got Talent franchise. The Take me out format was originally developed by the French division of Fremantle Media, but not immediately produced for broadcast. As Australia's Network Ten was the first to broadcast the show in 2008, the format is widely regarded as Australian. Not so much on Fremantle's website however, where the Indonesian version of the show is highlighted, launched in 2009, presumably because it marked the show's first big success. Interestingly, elsewhere on Fremantle's website, the British version of Take me out, launched in 2010, is taken as the start of the format brand. Fremantle's own contradictions aptly point to the difficulties of assigning dominance to one local versions of the format with such a multifaceted transnational background (Morrow 2014).
These considerations are further complicated regarding the Chinese context. After a bidding process, Hunan Satellite Television (HSTV) managed to obtain a license from Fremantle to produce a local version of the format, resulting in the 2009 launch of Take me out (women yuehui ba [我们约会吧]). However, despite HSTV winning the bidding process, JSTV nevertheless decided to develop an unlicensed version of the show, resulting in If you are the one. While JSTV, reminiscent of other unlicensed shows in China, claims that IYATO is an original show, inspired by other domestic and international dating shows, the similarities are quite unmistakable.
While HSTV's show reception was lukewarm, JSTV's If you are the one took China by storm and became ravenously popular. Its popularity led other TV stations to create copycats, inundating Chinese television with over 30 dating shows over the past years. Remarkably, as Chinese television shows have largely failed to attract international audiences outside the Chinese language sphere, it even received international attention (Sun 2015).
Australia's Special Broadcasting Service (SBS) bought the rights and started broadcasting the show in 2013 (Keane & Ma 2016; Sun 2014). Remarkably, the Australian did not localize the show (remade in an Australian setting with Australian candidates), but broadcast a subtitled version of the Chinese show. The show had thus returned to Australian shores like a boomerang: Australian audiences were now watching an unlicensed Chinese adaptation of a format widely considered to be Australian.
Bibliography
Keane, M & Ma, C 2016, 'The social contexts of format adaptation: remaking formats to fit in China', in K Aveyard, A Moran & PM Jensen, (eds), New patterns in global television formats, 203-216. Intellect, Bristol.
Li, LZ 2014, 'If you are the one: dating shows and feminist politics in contemporary China', International journal of cultural studies, pp. 1-17. Available from: ics.sagepub.com.
Luo, W & Sun, Z 2014, 'Are you the one? China's TV dating shows and the shengnü's predicament', Feminist media studies (2014), 1–18. Available from: tandfonline.com.
Morrow, K 2014, 'Fei Cheng Wu Rao: staging global China through international format television and overseas special episodes', New global studies, vol. 8, no. 3, pp. 259-277.
Sun, W 2014, 'If you are the one: dating shows, reality TV, and the politics of the everyday in urban China', Australian review of public affairs. Available from: http://www.australianreview.net/digest/2014/10/sun.html.
Sun, W 2015, 'Slow boat from China: public discourses behind the 'going global' media policy', International journal of cultural policy, vol. 21, no. 4, pp. 400-418.